opens select opportunities to investors like you. Share in the success we've built over the past 18 years. You can take advantage of our proven mortgage and real estate expertise.
Capital Direct is one of the fastest growing, non-traditional private lending companies in Canada specializing in home equity and residential mortgage financing. To find out more about Capital Direct, visit our retail web site at www.capitaldirect.ca.
Find out how you can take part in Capital Direct's investment of choice.
With better investing, your plans can become reality sooner than you might think. Investment options offered by banks may not grow fast enough to achieve your financial goals.

Capital Direct I Income Trust contains a blend of mortgages carefully selected based on stability, security, and financial worth.

The Capital Direct I Income Trust is 100% RRSP and RRIF eligible. It is an ideal investment for your medium and long term goals.

that takes advantage of the strength of the real estate market and offers attractive returns. Whether you are saving for retirement, a child's education, or simply want your registered or non-registered savings to grow, the Capital Direct I Income Trust can put your savings into high gear and help you achieve your goals. This is an investment you will be proud to tell your family and friends about!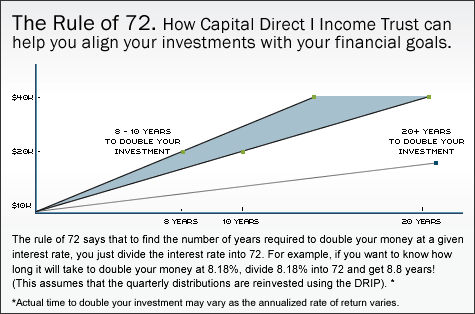 * Annualized ROI based on 2014. Based on past performance and not an expected or targeted return.

** Seven-Year Historical Yield is based on fixed income produced by the Assets of the Trust since inception. Past performance is not an indication of future returns.

Annualized return is calculated after the voluntary reduction in Management Fees and carried interest in 2014.