The Capital Direct I Income Trust opens select opportunities to investors like you. Share in the success we've built since 2006. You can take advantage of our proven mortgage and real estate expertise.
Capital Direct is one of the fastest growing, non-traditional private lending companies in Canada specializing in home equity and residential mortgage financing. To find out more about Capital Direct, visit our retail web site at www.capitaldirect.ca.
Find out how you can take part in Capital Direct's investment of choice.
Warren Buffett once said, "if you don't find a way to make money while you sleep, you work until you die."
That's harsh, but the Oracle of Omaha doesn't lie. Consider that $1 million invested at 7% a year generates more annual income than the median Canadian household makes working 9 to 5s. Historically, people who learn how to generate passive income successfully see their income – and wealth – snowball over time.
Apply now to see how Capital Direct can help you create passive income.
With better investing, your plans can become reality sooner than you might think. Investment options offered by banks may not grow fast enough to achieve your financial goals.

Capital Direct I Income Trust contains a blend of mortgages carefully selected based on stability, security, and financial worth.

The Capital Direct I Income Trust is 100% RRSP, RRIF, RESP & TFSA eligible. It is an ideal investment for your medium and long term goals.
Participate in an investment option that takes advantage of the strength of the real estate market and offers attractive returns. Whether you are saving for retirement, a child's education, or simply want your registered or non-registered savings to grow, the Capital Direct I Income Trust can put your savings into high gear and help you achieve your goals. This is an investment you will be proud to tell your family and friends about!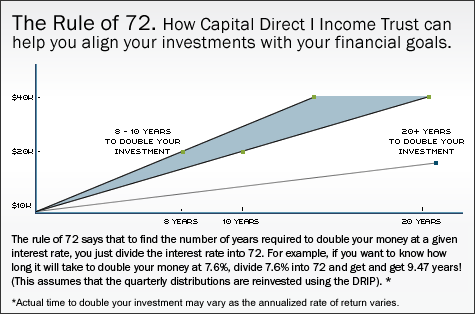 We are conservative investors and feel Capital Direct Income Trust gives a fair return on our investment. The trust has consistently paid approximately 7% interest and we get the interest paid directly into our bank account every 3 months.
Cec H., Grand Forks, BC | January 26, 2023
Stress-free interactions with 'real' people. Up-to-date reports on investments and changes to policies on a regular basis and of course great interest rates. Capital Direct offers the best interest rates.
Camilla H., North Vancouver, BC | December 8, 2022
* Annual return is based upon Q3 2023 income produced by Class A Units of the Trust after voluntary reduction by Management in Income Participation and distribution.

** Since Inception (2007) is based on the income produced by the Class A Units of the Trust after voluntary reduction by Management in Income Participation and distribution.

Past performance is not an indication of future returns. All subscriptions for the purchase of units are made pursuant to available exemptions. Investors should read the offering memorandum, especially the risk factors relating to the securities offered, before making an investment decision.